Posts Tagged 'Parko'
November 22nd, 2010
After six months on the sidelines following a horrific fin cut to his foot, Joel Parkinson won the Reef Hawaiian Pro at Haleiwa on Oahu's North Shore. It's been a tough up and down season for Parko, with the injury, the birth of a son and then the death of Andy Irons. The entire surfing community has got to be stoked to see Parko back and in such great form.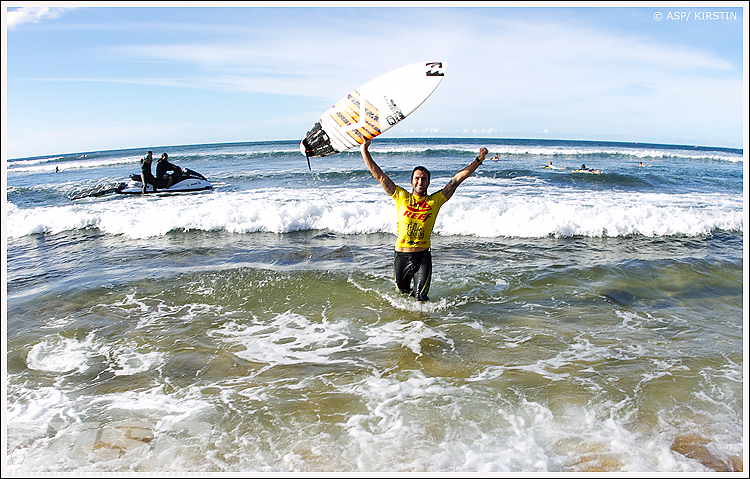 Here's the official ASP press release:
HALEIWA, Oahu, Hawaii – (Nov. 21, 2010) — Australia's Joel Parkinson (Gold Coast, QLD) made a brilliant return to the pro surfing stage after six months on the sidelines with injury, winning the Reef Hawaiian Pro today to take the lead in the prestigious Vans Triple Crown of Surfing series. Parkinson, 29, is the two-time defending champion of this Hawaiian series that is the final stage of the ASP World Tour. It was an emotional day for the Australian who has experienced the highs and lows of life en-route to today's win: The birth of his son last month, the death of close friend Andy Irons two weeks ago, and debilitating injury that forced him off tour.
This week Parkinson has been in devastating form, posting the only perfect 10 of the event and the highest heat total of the competition in his opening round. His form has been on-point and on-rail for the duration and easily deserving of the $20,000 winner's purse.
"It has been a pretty up and down year emotionally," said Parkinson. "I cut my foot and I was out of action for six months, I didn't surf for three months and I didn't compete for six months. Then I had a baby son so we had some joy, and then Andy (Irons) passed. It's been one of those years with one good thing then one bad thing. The year is almost over, we'll get through it and I'm trying to make amends with all good things that can happen from here to December.
"Riding a wave is always one of those things that, no matter what happens in or around your life, you can still ride a wave and forget everything.
"Considering that the last few years I didn't make a final here, to actually get a win and go to Sunset, which is one of my strengths and Pipe, where I've done well, it's definitely a good start to the Triple Crown."
Runner-up in the final was Joel Centeio (Hawaii, $10,000), the defending champion coming into the event. Third was Julian Wilson (Sunshine Coast, QLD, $5,100); and fourth was Heath Joske (Coffs Harbour, $4,900). The highest placed Brazilian surfer was Alejo Muniz (=13th); the top US surfer was Huntington Beach's Brett Simpson (CA =13th); and the top European was Maxime Huscenot (France, =25th).
For Wilson and Joske, this was their first 6-star Prime rated final and the pair are now in the running for the JN Automotive Rookie of the Vans Triple Crown award – for the top newcomer to the series.
The 30-minute final was a relatively wave-starved affair with a total of only 11 waves ridden. Conditions over the past week of competition have ranged from double-overhead to head-high today.

July 15th, 2010
Joel Parkinson's world title hopes were pretty much extinguished last week after he suffered a horrific gash to his foot. Requiring over 30 stitches, Andy Irons described the injury, suffered in a wipeout at Snapper Rocks, as the "worst fin chop I've ever seen".
Parko will be out of action for a good few weeks as the deep cut heals, forcing him to withdraw from the Billabong Pro J-Bay. According to Jim Kempton in Surfing The Manual: Advanced, coming back from a debilitating injury can be a long process, requiring both mental and physical strength:
Dr Warren Kramer, long time healer of surf stars, says normal soft tissue injuries generally take about four to six weeks to heal with a good six to eight weeks of disciplined rehab on top of that. Kramer breaks the basic rehab process down with the acronym PRICE, which stands for protection, rest, ice, compression and elevation. Protecting the injury while it heals will help minimize further damage. Rest gives it the opportunity to heal. Icing and elevating will help keep the swelling down. Compression assists in maintaining stabilization. This basic recipe should work for the average sprain or strain. It's when tendons are torn and ligaments frayed that the rehab process becomes complicated.
June 30th, 2010
"Once, if you wanted to surf Bells Beach, there were two ways of getting there: paddle from Torquay or bush-bash your way along the coastline on foot, carrying your board.
In 1960, surfer Joe Sweeney organised a grader to clear a track to Bells and the trickle of surfers became a steady flow. Then, in 1962, Peter Troy and Vic Tantau organised the rally that became the world's longest-running board-riding contest.
Fast-forward five decades and the beach is struggling to cope with 1 million visitors a year. Already its lone toilet block cannot cope – it now has to be pumped out every 48 hours."
Read the full article at The Age
An acclaimed professional theatre company based in Bristol, England. tobacco store Tobacco smoking is the greatest single cause of premature death and is a leading preventable cause of morbidity in New South Wales.