November 22nd, 2010
After six months on the sidelines following a horrific fin cut to his foot, Joel Parkinson won the Reef Hawaiian Pro at Haleiwa on Oahu's North Shore. It's been a tough up and down season for Parko, with the injury, the birth of a son and then the death of Andy Irons. The entire surfing community has got to be stoked to see Parko back and in such great form.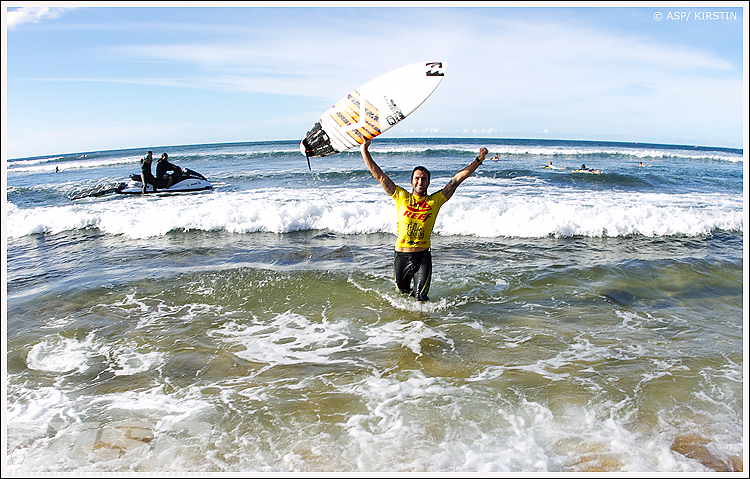 Here's the official ASP press release:
HALEIWA, Oahu, Hawaii – (Nov. 21, 2010) — Australia's Joel Parkinson (Gold Coast, QLD) made a brilliant return to the pro surfing stage after six months on the sidelines with injury, winning the Reef Hawaiian Pro today to take the lead in the prestigious Vans Triple Crown of Surfing series. Parkinson, 29, is the two-time defending champion of this Hawaiian series that is the final stage of the ASP World Tour. It was an emotional day for the Australian who has experienced the highs and lows of life en-route to today's win: The birth of his son last month, the death of close friend Andy Irons two weeks ago, and debilitating injury that forced him off tour.
This week Parkinson has been in devastating form, posting the only perfect 10 of the event and the highest heat total of the competition in his opening round. His form has been on-point and on-rail for the duration and easily deserving of the $20,000 winner's purse.
"It has been a pretty up and down year emotionally," said Parkinson. "I cut my foot and I was out of action for six months, I didn't surf for three months and I didn't compete for six months. Then I had a baby son so we had some joy, and then Andy (Irons) passed. It's been one of those years with one good thing then one bad thing. The year is almost over, we'll get through it and I'm trying to make amends with all good things that can happen from here to December.
"Riding a wave is always one of those things that, no matter what happens in or around your life, you can still ride a wave and forget everything.
"Considering that the last few years I didn't make a final here, to actually get a win and go to Sunset, which is one of my strengths and Pipe, where I've done well, it's definitely a good start to the Triple Crown."
Runner-up in the final was Joel Centeio (Hawaii, $10,000), the defending champion coming into the event. Third was Julian Wilson (Sunshine Coast, QLD, $5,100); and fourth was Heath Joske (Coffs Harbour, $4,900). The highest placed Brazilian surfer was Alejo Muniz (=13th); the top US surfer was Huntington Beach's Brett Simpson (CA =13th); and the top European was Maxime Huscenot (France, =25th).
For Wilson and Joske, this was their first 6-star Prime rated final and the pair are now in the running for the JN Automotive Rookie of the Vans Triple Crown award – for the top newcomer to the series.
The 30-minute final was a relatively wave-starved affair with a total of only 11 waves ridden. Conditions over the past week of competition have ranged from double-overhead to head-high today.