September 7th, 2010
A charity that supports people living with multiple sclerosis is looking for skiers and snowboarders to sign up for its upcoming Monster Ski event, which will take place in Tignes, France from 3-7 February 2011.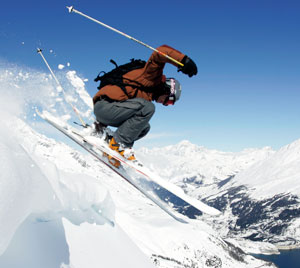 Monster Ski is an exhilarating ski and snowboarding challenge, organised exclusively for the Multiple Sclerosis Trust. If you're confident on a red run and want a ski trip that challenges and thrills, then Monster Ski is for you! Be part of this fast, exciting downhill adventure that will see you skiing the height of Mount Everest every day in one of Europe's premier resorts.
Monster Ski is an endurance challenge to ski 90,000 vertical feet over 3 days. It might sound daunting, but if you are a confident and capable skier or snowboarder, with a good level of fitness, it should be within your grasp. This charity event offers you a unique way to experience the expansive Espace Killy ski area, whilst being part of something really special to benefit people living with a difficult life-long condition.
Located below the towering Grand Motte, Tignes is a high altitude haven with links to Val d'Isère. Due to its altitude, Tignes has a very reliable snow record with snow-sure slopes and superb glacier skiing. It costs just £150 to register for Monster Ski and each participant will be required to raise a minimum of £1,700 in sponsorship for the MS Trust. Included in this price are flights & transfers, accommodation (half board), a 3 day lift pass and ski guides.
Previous Monster Ski events in Colorado, Engelberg and Whistler have raised over £250,000 to support the MS Trust's vital work. This is your chance to put your passion to a good cause and help people living with MS today. The Monster Ski experience will leave you with a real sense of achievement and great memories that will stay with you forever.
"I've just about recovered from the Monster Ski challenge! What a fantastic week… Fantastic place, fantastic friends, fantastic charity." Keith, Monster Ski Whistler 2010
For more information about Monster Ski, please contact Laura Percival at the MS Trust on 01462 476707 or download a registration pack from: www.mstrust.org.uk/monsterski
Notes:
MS is usually diagnosed in young adults. It is a complex and unpredictable life-long condition that attacks a person's central nervous system, often leading to physical and cognitive disability. We currently know neither cause nor cure.
The MS Trust is working to enable people with MS to live their lives to the full by providing evidence-based information; educating health professionals about multiple sclerosis; and funding research to help people living with MS now.
In January 2008 18 people took part in Monster Ski in Colorado; 16 people took part in Engelberg, Switzerland in January 2009; 15 people took part in Whistler in April 2010. Case studies are available on request.
More information about Monster Ski can be found at www.mstrust.org.uk/monsterski, including the Monster Ski blog and photos from previous events on Flickr.
Monster Ski is run by Ski Independence, the UK's leading independent ski tour operator. Visit their website at www.ski-i.com.
Contact Laura Percival, Fundraising Officer for further details or photos on 01462 476707 or [email protected]
Tags: Espace Killy, Monster Ski, MS Trust, skiing, snowboarding, Snowfinder, Tignes, Val d'Isere